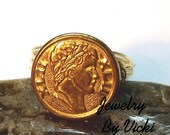 What cool vintage button! More from my inherritance of my mothers. From the 70's
I used 22mm permanant colored and no tarnish gold colored wire, to wire sculpt the ring. I added a coil to each side. Buy any three rings and pick out a fourth ring FREE! Great idea for the hollidays!
Size- Specify
Button size-5/8"
"All rights reserved"
Click Here to Visit My Etsy Shop!