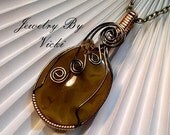 Though the fossilzed resin that is known as AMBER will be found in many places throughout the globe, 95 per cent of the world total is concetrated along the Baltic littoral. Ranked as the world's finest, it is anywhere from thirty-five to one hundred and forty million years old;
indeed, the older, the more beautiful and valuable it is.
They are polished to show the real beauty of amber. Ligh...
Click Here to Visit My Etsy Shop!