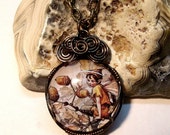 Such a sweet print of a fairy of the acorns!
The art is protected and magnified with a high quality, resin dome top. The back is finished with a heavy coating of Diamond Glaze
I have wire wrapped this beautiful cabochon, with bronze permanent colored non tarnish wire, that just match's this little sweetheart. The wire wrapping is wrapped intirely, by hand sculpting, no two can ever be the same! I ha...
Click Here to Visit My Etsy Shop!