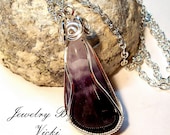 Amethyst is believed to help with hearing problems and may aid in health problems relating to the skeletal system such as arthritis and back problems. Amethyst may help with disorders of the digestive system, nervous system, heart, stomach and teeth. Also claims of helping with addictions.
This is a beautiful, shiny piece of amethyst, it's beauty has guided me in this wire sculpture
I have a...
Click Here to Visit My Etsy Shop!