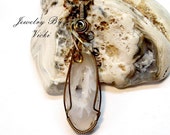 This is a beautiful crystal Agate slice, hand picked by me at our local gem and mineral show. I have wire wrapped this pretty crystal with 21 guage vintage bronze colored square wire, and accented it with champain colored, swavorski crystal bead. This is a wonderful one of a kind pendant. Great unique gift!
Metaphysical and Healing Properties Lore
Keywords: Protection, Strength, Harmony
<...
Click Here to Visit My Etsy Shop!