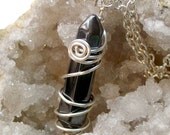 Beautiful crystal made from Hematite, and wrapped with copper core, Non tarnish silver plated 20guage round wire. This wire is awsome It never tarnishes, always shiny like new! My gemstones are hand picked at our local Gem and Mineral show, and wire wrapped by hand.
Hematite grounds and protects us. It strengthens our connection with the earth, making us feel safe and secure. It endows us with courage,...
Click Here to Visit My Etsy Shop!