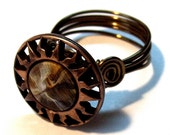 Very beautiful, Sun button, made in Spain. I have wire wrapped this ring with permenant antiqued vintage bronze colored non tarnish wire. I have put coiled wire accents on each side. Truly an awsome ring! I have two of these buttons, so you may specify size while they last.
Size-8
"All rights reserved"
Click Here to Visit My Etsy Shop!