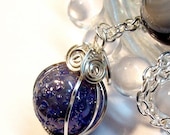 ❘❘❙❙❚❚ ON SALE ❚❚❙❙❘❘
This beautiful, and unique marble, is maufactured in my home state of Kansas. It is from the "Asteroid" marble catagory.Asteroids have an opaque lavender base with flecks of blue on the surface. The flecks haven't been melted in all the way giving the surface lots of texture. They are iridized to have a very shiny reflective surface. This...
Click Here to Visit My Etsy Shop!