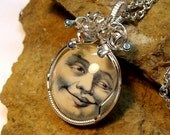 Beautiful "Medusa Moon" high resolution art print. The art is protected and magnified with a high quality acrylic dome top.
I wire wrapped it with 22 guage non tarnish silver plate wire wit a copper core, and accented it with spirals to represent Medus's snake hair, I added tiny metalic bue beads to the ends. All my pieces are made by hand. Know to pendants can ever be exactly alike, so y...
Click Here to Visit My Etsy Shop!