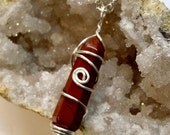 Beautiful crystal made from Mahogany Obsidian, and wrapped with copper core, Non tarnish silver plated 20guage round wire. This wire is awsome It never tarnishes, always shiny like new! My gemstones are hand picked at our local Gem and Mineral show, and wire wrapped by hand.
Mahogany obsidian has a gentle energy that will ground and protect its owner. Use it for strength in times of need, to remove en...
Click Here to Visit My Etsy Shop!