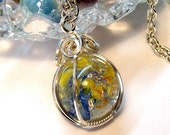 Fryed Catseye Marble! Yes, you heard right! I have taken this awsome marble fryed it in a skillet, got it nice and hot and then it is put in a really cold ice bath, to make it crackled.
This beautiful, and unique marble, is maufactured in my home state of Kansas. It is from the "Catseye" marble catagory, and is yellow and green! This type of marble is called a mib, ducky,or alley. These are very be...
Click Here to Visit My Etsy Shop!