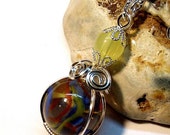 ❘❘❙❙❚❚ ON SALE ❚❚❙❙❘❘
This beautiful, and unique marble, is maufactured in my home state of Kansas. It is from the "Fiesta", marble catagory. The Fiesta is clear with red,blue and yellow swirls. This type of marble is called a mib, ducky,or alley. These are very beautiful marbles with rich colors. I have repurposed this pretty marble, by wire sculpting. a cage of, non...
Click Here to Visit My Etsy Shop!