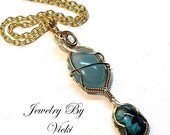 ❘❘❙❙❚❚ ON SALE ❚❚❙❙❘❘
Light Turquoise sodalite stone on top and man made light turquoise on the bottom, pendant is wire sculpted in 14kgf square wire.
All my pendants are hand sculpted, and original. This is one of the few left in 14 gf, and is a huge bargain, and a one of a kind.
Pendant Length-2"
Free Chain length-18"
Click Here to Visit My Etsy Shop!