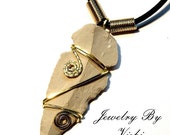 ❘❘❙❙❚❚ ON SALE ❚❚❙❙❘❘
Awsome arrowhead, from Mexico. I hand picked this arrowhead, from our local gem,fossil,and mineral show. I wire Wire wrapped and hand twisted the wire in 21 guage permanent colored, non tarnish square,copper core gold wire. This wire is fabulous! Stay's beautiful and shiny.
Handmade, and one of a kind. The necklace is unisex and you may choose f...
Click Here to Visit My Etsy Shop!